About Dula Construction
In business since 1976, Dula Construction is your local expert in roofing, siding, and more in Greater Charlotte. Originally starting as John Dula Construction, the "Godfather" of siding, we changed our name to Dula Construction in 1999. We are family owned and operated and take pride in our ability to enhance homes and commercial properties through our extensive range of services. Whether you're in need of a planned or unplanned repair, new roof installation or a complete renovation, we provide unmatched customer service and skilled craftsmanship to meet your needs and exceed your expectations.
Our Founders' Story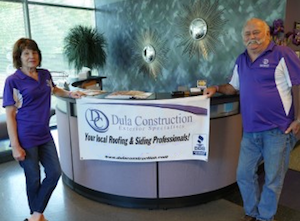 John and Cindy Dula
Dula Construction originated through John Dula. In 1963, John began installing siding and other home products. A popular growing trend back then was aluminum siding because of this notion, John Dula and others in this field were referred to as "Tin Men."
There were a lot of shady people back then however, John, being honest with a strong work ethic, had excelled above others in this field. After his tour in Vietnam, he returned home and opened a sole proprietorship called Dula's Aluminum. John worked under this name for many years.
In the late 70's John, along with his wife Cindy and their son Steven moved to North Carolina where business was booming. The company was then re-named John Dula Construction under a LLC entity. In 1985 Cindy joined the company full time and in 1994 Steven came on board. In September of 1999, a corporation was formed under the present name, Dula Construction. Through the years with the ups and downs of the housing market, Dula Construction has remained strong and weathered the storms steadily providing North and South Carolinians with quality installation of roofing, siding, and many other exterior services.
It is the mission of Dula Construction to excel in customer service and satisfaction through the eyes of our customers today and for many years to come.
About the Owners
Steven Dula
Steven Dula, Co-Owner
Having moved from Baltimore, Maryland to The Carolinas when he was 6 years old, Steven Dula calls himself a native to Carolina. Growing up in the construction industry, he did not realize his passion for the industry until his parents gave him a large scale remodel project in Charlotte to help manage which included lots of hands-on work. Steven quickly realized it was an amazing gift he was blessed with to be able to take a product or a job scope and turn it into someone's vision or dream.
Steven first started with Dula Construction as an hourly field tech for his parents and worked his way to partner in 2001. More than 15 years later, Steven's family-owned and operated business is the same strong company with all the business and moral fundamentals instilled by his parents, John and Cindy Dula.
Steven is happily married for 10+ years with a daughter at UNC Asheville and a son attending elementary school. He is truly blessed with a great family, along with an extended family that is a product of all the relationships created by making building products and design inspirations a reality for consumers.
Jason Beadnell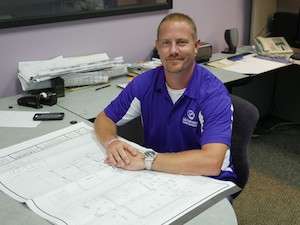 Jason Beadnell, Co-Owner
Jason Beadnell has been in the construction business since he was old enough to swing a hammer. He has done everything from being a salesman to a manager running a multi-million dollar company. Jason started with Dula Construction in 2010 as a consultant, and he worked in this role until 2015 when he was asked to become a partner.
Growing up on a farm in a small town, Jason takes what he's learned from being raised there and applies it towards how he runs his company. He is a strong believer that customer service has to be equal to quality and workmanship. When you're a customer of Dula Construction, Jason aims to treat you as a friend and not just a customer. Outside of work, Jason enjoys spending time with his amazing wife and their two children. They have a two-year-old boy and a four-year-old girl. In his spare time, Jason is an avid fisherman and hunter.
Community Involvement
Here at Dula Construction, we believe in the importance of participating in our community. We donate yearly to the Wishing Well Foundation to support children with terminal illnesses. We also support several local projects; we were a long-time sponsor of the Ardrey Kell High school marching band, and we contributed to demo labor for the Wesley Chapel Weddington Athletic Association. Dula Construction always looks forward to these opportunities to give back!
Affiliations & Certfications
Looking for a price? Get a no cost, no obligation free estimate.